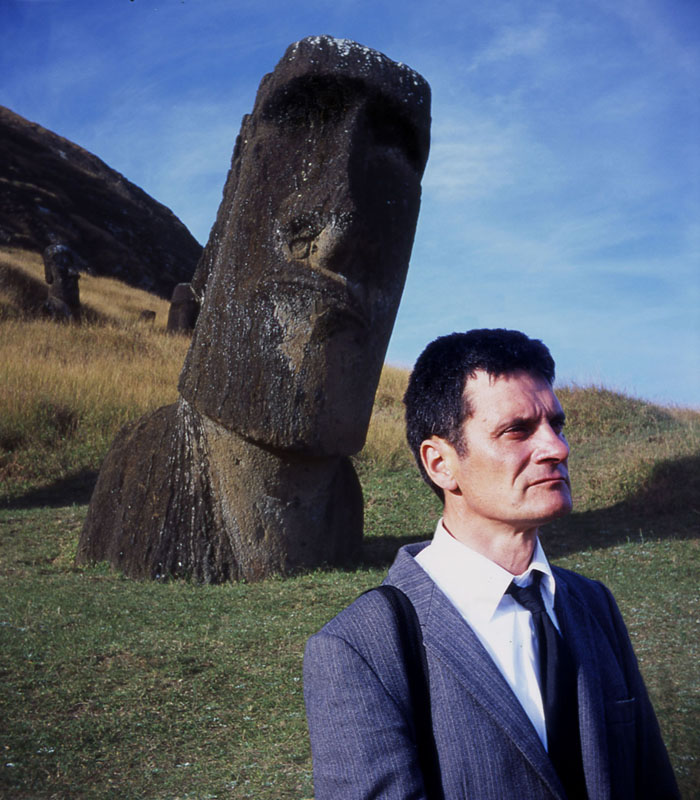 Une fictionnalisation des célèbres ciné-conférences éponymes, mettant en scène un documentariste indépendant se rendant sur l'île de Pâques à la recherche de traces de visites extraterrestres, mais se retrouvant confronté à une part tragique d'histoire et de nature humaine, ainsi qu'aux limites de son entendement face aux questions essentielles de l'existence.
An independent explorer goes to Easter Island to look for signs of extraterrestrial visitation. But his search leads him to confront aspects of human nature and history, as well as his own inability to find answers to the essential questions of existence.

44 minutes, 2004, 35mm NB et couleurs, sonore.
Scénario, réalisation, montage, musique et bande son
script, direction, editing, music and soundtrack : Philippe Fernandez
avec cast : Bernard Blancan
Images camera : Fred Mousson (partie 1) et Pierre Wéité (partie 2)
Production : Karé Atlantique c/o Karé Production
avec le soutien with financial supports :
du Conseil Régional d'Aquitaine
de la Région Poitou-Charentes
du Département de la Charente-Maritime
et l'aide à la post-production du Thécif - Région Ile-de-France

Prix de qualité CNC 2005

Location & diffusion en 35mm (with or without english subtitles) :
l'Agence du court métrage www.agencecm.com
et Pointligneplan www.pointligneplan.com
DVD : Hors-piste 2006, Edition Centre Pompidou / Lowave
VOD : www.pointligneplan.com
Visionnable au Forum des images, Paris Les Halles (collection Pointligneplan)
2e Rencontres du moyen métrage Brive 2004
Vila Do Conde (Portugal) 2004
Demain dès l'aube Centre Georges Pompidou, Paris 2004
La Fémis, Paris, 2005
Soirée Bref MK2 quai de Seine, Paris 2005
Onze Bouge Paris 2005
3e Rencontres du cinéma français Pau 2005
MacVal (Vitry) 2005
Hors-piste Centre Pompidou Paris 2006
Cinéma du Réel Centre Pompidou Paris 2008
Programmation en salle : Utopia Bordeaux mars / avril 2006

un texte d'Emmanuel Siety /// un article d'Erik Bullot